Vishal Sharma

Managing Principal

Vish founded Sharma Strategy Group in 2010 leveraging his relevant mix of operational and strategy consulting experience.

Prior to starting SSG, Vish spent 6+ years at The Boston Consulting Group, which he left as a Principal to lead operational and financial improvements at Clear Channel as SVP, Strategic Initiatives. Before that, he dreamed of working at NASA's Jet Propulsion Laboratory.

Overall his work has spanned analysis within Consumer Goods, Tech, Media, Telecom and Travel. He has deep experience across multiple functional areas including corporate and international strategy, operational effectiveness, retail performance enhancement, sales force effectiveness, consumer insight and strategic sales process improvement. But he has yet to get to count down an actual rocket launch.

The space age's loss is our gain as Vish applies the mind of a rocket scientist to our client's needs.

Vish holds an MBA from the Tuck School of Business at Dartmouth, where he was elected an Edward Tuck Scholar. He also holds a BE from the Indian Institute of Technology, Delhi where he graduated at the top of his class.

Diana Hartford

Managing Principal

Diana leads SSG's Innovation Practice leveraging her broad-based experience in strategy and operations and her deep expertise in design-based consumer goods innovation. She is also a Culinary Institute of America Certified Chef. That means she can find solutions, create innovation and whip up something to make your mouth water.

Prior to SSG, Diana spent 10+ years in Food & Beverage global at Darden and PepsiCo so she knows all the things that people love to eat. As Director of Brand Innovation at Pepsico she was at the cutting edge of the newest and most delicious food trends and developments. With her experience in emerging markets she quickly became a CPG specialist for BRIC and Turkey. She has been a sought after CPG innovation consultant ever since.

It's no surprise that Diana takes her food seriously. It's a passion she now shares with her infant son, who is quickly becoming a foodie in his own right.

Diana received a B.S. in biology and psychology from Boston University and holds an MBA from the Tuck School of Business at Dartmouth. These, combined with her certification from the Culinary Institute, means she can innovate and evaluate at level you've never seen and will also make you something to eat when you're not looking.

Amy Haller

Chief Operating Officer

Amy brings a wealth of experience to her role as Senior Principal and Chief Operating Officer. She also brings a love of ABBA. We didn't have that before.

Before joining SSG, Amy spent almost 20 years at Deloitte Consulting issue-to-impact development and execution for Fortune 100 accounts in retail, consumer and industrial products, technology, and oil & gas markets.

Amy received her MBA from the Fuqua School of Business at Duke University and might be a time traveler as she woke up on August 5, 2002 in both Auckland and Hawaii. She claims this was due to the International Date Line, but we remain hopeful she will one day fess up and teach us the secrets of space-time.

Amy has chaired the North Texas chapter of the American Foundation for Suicide Prevention since 2013 and has been a member of the Dallas Mayor's Star Council and Leadership Texas.

One time she hit Martina Navratilova.
So, tread lightly.

Arup Bhattacharjee

Senior Principal

Arup joins SSG with a lot of experience under his belt and a lot of miles behind the wheel. In one summer alone he spent 4200 miles on the road with his family touring the United States National Park system. In between this epic road trip and other adventures in Galapagos and Patagonia, he served as VP in Fidelity Investments' workplace retirement business. There he designed and implemented a new 401k offering for Fidelity's Financial Advisors.

Prior to his position at Fidelity, Arup worked for BCG across multiple industries including telecom, hospitality and the public sector working on large-scale business transformation and cost optimization problems.

He brings a passion for product strategy, operations strategy and product management as well as a desire to discover a way to enjoy the most satisfying meal while consuming the least number of calories. He refers to this as the ultimate optimization problem and is determined to solve it no matter how many meals it takes him. Arup is also an expert at customer experience and growth strategy, business transformation and creating stories to share with his young son and daughter.

Arup's drive and determination make him an invaluable part of SSG and we are happy to have him as part of the team.

Vivek Narasimhan

Senior Principal

Vivek is a Principal with years of consulting experience in strategy development and execution. He has worked across multiple sectors including Consumer Goods, Tech, Telecom, Energy and Financial Services. He's also ridden across India and the Himalayas on a motorcycle so it would be best not to complain about being stuck in traffic around him.

Consumer analytics and interpretation come naturally to Vivek and he enjoys studying demand across varying geographies and categories to unlock insights hidden deep in the data. Aligning these findings and crafting implementation strategies with Marketing and Commercial leads has enabled him to help some of the world's largest brands.

Prior to SSG, Vivek was a Manager with Deloitte Consulting's Strategy and Operations practice with a focus on business model transformation, cost reduction and process optimization. He has previously worked with Altman Vilandrie & Co. and Ernst & Young. Then he climbed Mt. Kilimanjaro.

Vivek holds an MBA from the Tuck School of Business at Dartmouth and continues to perform volunteer work in Africa.
Tanya Thomas

Principal

Tanya leads large strategy consulting projects at Consumer Good clients employing her expertise in analytics, demand science, consumer experience and more. Tanya also moves, on average, once a year. She has lived and worked all over the globe, from India to Singapore and all across the US.

Perhaps it is the ever-changing view that helps Tanya analyze global consumer data with a fresh perspective and glean insights that others missed. By answering the question "What do consumers really want?" Tanya has found new ways to let the data speak. This combination of analytics and her deep Demand Science expertise has helped unearth pragmatic solutions for many global brands.

Prior to SSG, Tanya worked as a consultant at the Boston Consulting Group (BCG) with Consumer Goods, Tech and Telecom clients. Previously, Tanya was a software engineer at the German firm Continental Automotive based in Singapore, where she managed the development of automotive platforms for clients.

Tanya holds an MBA from the Tuck School of Business at Dartmouth, and graduated with a Bachelor's degree in Engineering (B. Eng.) from the Nanyang Technological University in Singapore and is probably really good at packing.

Kirsten Myers

Principal

Kirsten is a marketing leader with more than 15 years of brand strategy, innovation and consumer insights experience in the consumer packaged goods, restaurant and retail industries. In her role as principal at SSG she manages consumer strategy, organizational design, innovation strategy, ideation and concept development, and research analytics. At home, she manages two children where she is constantly innovating new strategies to keep them organized and entertained.

Kirsten's marketing career has included roles as Director of Marketing at Frito Lay, Brand Manager at Darden Restaurants and Director of Consumer Insights at Yankelovich Partners. As an innovation and consumer insight expert, she recently helped a major consumer brand generate $75MM in topline growth and enter into new sub-categories and store aisles.

Kirsten received her MBA from the Dartmouth Tuck School of Business, and her Bachelor's degree in Sociology from Miami University.

Stan Cavin

Principal

Stan possesses a wealth of consulting experience in CPG, Foodservice, Retail and Tech and, as a principal at SSG, he works closely with clients to drive sales growth and commercial excellence through sales force effectiveness, price optimization, customer profitability and bid modeling, among others. This sounds like Stan has a lot of balls in the air but juggling these tasks is child's play compared to raising four children.

Prior to SSG, Stan served as a senior manager in A.T. Kearney's Retail and CPG practice where he helped fortune 100 clients with strategy, operational improvement and corporate restructuring projects across marketing, store operations, supply chain and procurement functions. He also previously served in business development and project engineer positions at Vector Cantech, Inc., and as a research scientist at NovoDynamics, Inc.

Stan believes in metrics that matter and can also help you build Finance capabilities by bridging the gap between analytics and technology implementation. On top of all this he coaches his daughter's basketball team.

Stan holds an MBA from the Ross School of Business at The University of Michigan, where he also received Masters and Bachelors degrees in Computer Engineering. Wish him luck. Two of those kids are twins. That's a special kind of tired.

Scott Strang

Senior Project Leader

Innovation strategy, organizational transformations, robot boats and getting dogs to point at things on a competitive level — is there anything Scott can't do?

A man of many talents, Scott uses his extensive knowledge and understanding of consumer demand to hunt through the weeds and flush out solutions for his clients every day. Then, every night, he goes home and teaches his dogs to do the same thing.

As someone who once spent time in an MIT lab researching and designing an autonomous kayak, it may come as little surprise that he is also a natural when it comes to shining a light on R&D insights.

Scott also uses his diverse set of abilities to aid clients with innovation strategy, organizational transformation and finance design.

But can he climb a mountain? Of course, he can. After viewing the mountains while hiking through Yosemite, Yellowstone, the Dolomites, Alps and Glacier National Park, he figured the next logical step was to climb them. So, he did.

It doesn't matter if you need a business problem solved or a boat that will row itself across the lake to teach a dog to climb a mountain, Scott brings his knowledge and passion to every project he encounters.

Aaron Zarenczanski

Project Leader

Aaron comes to us by way of New Mexico, Brazil, Saipan and Neverland.

As a child, the movie Hook ignited a passion in him for TV and movies. His interest quickly grew beyond the Peter Pan tale to include international films including the Italian film 8 ½ which we hadn't heard of either.

Aaron chased the dream to Hollywood by pursuing a career in the industry where he became a producer and executive of development and strategy with a production company working on such titles as Return of the Living Dead.

But one day, he started to missed the structure of the professional world and he realized that he had to leave Rufio and the other Lost Boys behind and follow his other passion. So, along with degrees from Insper in Sao Paulo and UCLA, he has brought his cinematic creativity to SSG.

Aaron also enjoys rock climbing, snowboarding and sleeping under the stars.

Just like a true Lost Boy.

Bangarang!

Sara Ding

Project Leader

Hailing from Beijing & Changsha, Sara has constantly fed her craving for knowledge. This had given her both a breadth of knowledge and a fondness for Batman. Much like her favorite super hero, Sara is always looking to improve knowledge and physical skills.

In between her time at USC and her graduate studies she served several internships to optimize her learning and indulge her curiosity. This experience led her to choose the management science and engineering program at Stanford combining quantitative analysis, technical skills and qualitative insights.

She's passionate about problem solving and loves applying her skills to provide clients with solutions. Her other passions include running and performing on the stage as well as volunteer work with the homeless and children. Her latest personal goal is to learn how to skateboard and, possibly, secretly fight crime.

Cristina Logg

Project Leader

Cristina joins us from the beaches of California by way of the State Department. She holds a Masters in City Planning from MIT, an MA in conflict resolution from Georgetown, and a BA in international affairs from George Washington. If you find yourself in a heated argument about which train you're supposed to take in London, she's the one you want around.

Cristina's time at the State Department involved processing Freedom of Information requests and generally safeguarding our liberties so we're pretty sure she can keep a secret. Her talents include Statistical Analysis, Data Visualization, petting cats and throwing ceramics. She is not a fan of throwing cats or petting ceramics and she wanted us to make sure we got that last bit right.

In addition to creative problem solving and a desire to help her clients, Cristina brings a passion for street food, Old Fashioneds, and the Northern California ocean.

So if you're looking for where to get the best baked potato with a cup of vin chaud in Paris, the freshest sautéed noodles with smoked pork and chili sauce in Singapore or the tastiest Old Fashioned in Boston, Cristina is the one to talk to.

Ankur Gupta

Associate Project Leader

Ankur is SSG's Intercontinental Champion. He began his quest for the title by collecting degrees from India, Sweden and finally Cornell in the US. In addition to this sweep, he's lived in South Africa and climbed Mont Blanc, Kilimanjaro and several mountains in the Himalayas.

His hobbies include running marathons, guitar, squash, brewing his own beer and the study of behavioral economics. And, while he is currently only a novice saxophone player, he possesses both a masters of public administration and a masters of environmental engineering and sustainable infrastructure.

Ankur enjoys using his skills and talents to find creative solutions for clients so feel free to ask him for an innovative solution, hot licks, a cool solo, a quick run or a cold beer that could really mess with your head.

Phoebe Jiang

Associate Project Leader

With a passion for ancient civilizations and an affinity for modern science, Phoebe swears to us she won't use her knowledge to build a time machine. While we realize that's exactly what someone who was building a time would say, we are thankful she brought her skills to Sharma.

Phoebe's desire to become a scientist and healthcare worker brought her from her home in Guangzhou to the US where she studied Molecular, Cell and Developmental Biology, Neurobiology and Anatomy. During her studies she researched Alzheimer's disease, Parkinson's disease and totally not how to build a time machine to visit Ancient Egypt she swears.

Phoebe soon fell in love with consulting when she was introduced to case practicing at Northwestern University while pursuing her Masters. After that, she never looked back. We're excited to have her here at Sharma where her skills in business process improvement, data analytics, opportunity assessment and more can be put to use serving our clients and not threatening the space time continuum.

Pallavi Geethika

Associate Project Leader

Despite Destiny's Childs' mother, Destiny's, advice, Pallavi loves hiking in search of waterfalls. One of her current goals is to visit all 63 major National Parks in the near future. This means that she's always looking for a ride to the next one on her list.

Pallavi loves a good road trip and makes a great passenger. She can carry on a conversation in 6 languages, sing classical Indian songs or play the movie quote game for miles on end.

She earned her Economics degree from the University of Chicago and still resides in the city. When she's not out shirking Beyonce's words of wisdom, she's sticking to the rivers and the lakes that she's used to. She spends her time exploring Chicago and cataloguing the best coffee shops, restaurants, bookshops and live music venues the city has to offer.

Jessica Cheng

Senior Associate

Economist. Consultant. Chameleon? Jessica Cheng has always been adaptable.

Before Covid, you could find her enjoying the view from the top of a mountain or crossing streams while hiking through nature. She enjoyed jet skiing in Mexico or praying at a temple in Japan while travelling the world. But when Covid changed everything, she quickly pivoted and took her hobbies indoors.

She traded Mountain climbing and hiking through rivers for baking bread. She scaled the greats like Mt. Sourdough and Ciabatta Peak. She traded Jet Skiing in Mexico and praying at temples in Japan for coffee tasting and found thrills and relaxation in caffeine's warm embrace. And she traded traveling the world for not traveling the world—just like everyone else.

This extraordinary flexibility is just one of the many skills Jessica brings to her work at Sharma. With her degree in economics from the University of Chicago, a CAMP certification and years of experience, Jessica is ready to put her passion to work for our clients.

Sergio Castillo

Senior Associate

Man of action. Volunteer. Chesapeake Bay Retriever wrangler. Sergio's winding path to SSG includes time in the OR and more than a few ambulance rides.

With his eyes set on working at the UN, Sergio began his education in political science and business administration. But, once he began working as an EMT, he turned his focus to emergency medicine and studied neurobiology, biochemistry, virology at the University of Pennsylvania. He even spent time in the OR assisting an oculoplastic surgeon.

Soon after he took his passion for business to Duke's Fuqua School of Business where he double majored in Management Studies and "Science, Technology, engineering and Mathematics."

All of this means that Sergio knows how the consumer mind works. And, if it's not working, he can peek inside and see why.

Shannon Kollasch

Senior Associate

You might find Shannon dancing in a ballroom, playing violin in Chicago's Chinatown, or hard at work at a non-profit to decrease educational inequality. Her energy is endless. Is this some weird mad science type side effect from her time at Northwestern University where she was working on sustainable energy? Probably.

This new secret form of energy has helped her in her passion for growing organizations and helping them operate better. In college she grew her cooking class from 10 to 250, developed mentorship avenues in her materials science club, all while testing new methods for creating high-performance solid oxide fuel cells and watching parakeet videos.

Shannon brings that same boundless energy to her work at Sharma helping clients solve problems, optimize processes, grow their business, or work on their salsa.

As long as she uses her powers for good, her secret is safe with us.

IDAN KATZ

Associate

From the frozen plains of the Antarctic to the boardrooms of the world, Idan is always up for a new adventure.

As a scuba diver, he's equally comfortable diving into the open sea or an ocean of data to discover the secrets they hold. As a wildlife photographer, he's able to capture a snapshot of gorillas in Rwanda or an insight from an assignment and use it to enlighten the world. And, as a soccer fan, he's really good at kicking things.

His time at Northwestern and career experiences have taken him around the world from Tel Aviv to Prague. He's worked in Israel, Cyprus and the USA. And, where work didn't take him, he went in search of adventure. He's set foot on all seven continents, many different countries, and can't wait to see the rest of the world.

Idan has studied economics, business and integrated marketing communications and can't wait to put his skills to work on the next project. On to adventure!

Sophie Lyu

Associate

From Übermensch to Uber the ride sharing platform, Sophie's has had a few interesting stops along the way to SSG. Before getting her Master of Science in Analytics, Sophie majored in Mathematics and Philosophy, where she wrote her honor thesis on Nietzsche.

While pursuing her masters at the University of Chicago, she interned with Uber and helped determine the product development pace of the company's first mobility pilot with autonomous vehicles. This put autonomous vehicles on Uber's platform for the first time.

Now she has turned her considerable powers of analysis to helping clients. In addition to analyzing data and creating solutions, she continues to question whether truth is simply the name given to the point of view of the people who have the power to enforce it, studies classical guitar and enjoys trying new and delicious foods.

Giselle Wang

Associate

Giselle has practically spent her life turning science fiction into science fact. Maybe it began with a love of Asimov or Phillip K *** novels. But, instead of asking if Androids Dream of Electric Sheep, she wondered if the secret to defeating cancer was locked inside whale DNA.

Because marine biology and harnessing the building blocks of life to find an innovative genetic cure of hypoxia for human patients with strokes, cardiovascular disorders, and cancer isn't enough, she's also a rock star. She is the lead singer/guitarist for her synth wave band and produces tracks that would feel right at home in the world of Blade Runner.

So, what do you do next if you're a roller skating, sci-fi loving, monofin diving, genome sequencing, whale studying, cancer fighting, rock star with a double major in marine biology and economics? You use everything you've learn to help make the world a better place by helping businesses develop more efficient and sustainable practices. Because this is the only planet we've got…for now.

Josip Apostoloski

Associate

Game theory, data sets, and an unmatched serve. That's Josip.

Most children make a racket when they are young. But Josip picked up a racket instead and started swinging. At the age of six, he began playing tennis and went on to play competitively.

He eventually combined his interest in analytics with his passion for the sport when he began applying game theory to his performance on the court. He analyzed 20+ stats to find the most significant predictors of victory by evaluating data sets from professional tournaments. This combination of talents helped him become the number 2 ranked player in Macedonia.

Josip's talents took him to Northwestern University, where he earned degrees in Economics and Business Institutions as the first Macedonian undergrad in the school's history. We're pleased that he now puts his game face on for us.

Josip also picked up a chef's knife at a young age. But that's a different story.

Brant Tan

Associate

Most travelers collect souvenirs: snow globes from Switzerland, grass skirts from Hawaii, or a counterfeit luxury watch from New York. But Brant has a taken travel a step further. He has traveled the world collecting passions.

He says that every contact with another culture has had a profound impact on his personality and thinking. His journeys to Columbia and Mexico have shown him how to enjoy an awesome party but also how the drug and gang issues take root and continue to plague the beautiful countries. Time spent in Gaza, Jerusalem, Palestine, and the West Bank amazed him with the long and intertwined history but also prompted him to think about the ongoing conflicts. Thailand, Nepal, Vietnam, Taiwan, France, Italy…the more he travels, the more interests and understanding he collects. Along with cultural immersion, he is developing a new understanding of the world and picking up passions along the way, such as trekking, skiing, and recently, scuba diving.

It was his passion for learning that first brought him to SSG. Brant believes that, with the right problem-solving skills and technology, the potential of human society will be boundless. That would be some souvenir. A better world beats a fake Rolex any day.

Brianna Zhang

Associate

Brianna loves film. Not movies. Not pictures. Film. That black stuff the rest of us gave up on. She has a passion for analog photography and would spend time in a dark room developing film and making prints. It's a passion she shares with Christopher Nolan, her favorite director.

Her keen eye isn't limited to the camera. A Fuqua scholar from Duke, Brianna has a knack for spotting insights that may elude others. She loves bringing these into focus for others to see. Her passion for consulting began in her sophomore year and she has chased it ever since.

When she's not snapping pics or teaching elementary students in Tibet, you can find Brianna planning a trip. She loves hiking and nature and taking road trips to EDM festivals. The only regret she has when she travels is leaving her cat behind. It is sad. But we're pretty sure she's got plenty of pictures of her feline friend to take with her.

DENISE LARSEN

Operations Manager

Ops manager, tennis fan and collector of passports, Denise brings a world of experience to Sharma.

Denise has been traveling the world since she was a child. She visited family in England and Ireland, studied in Salamanca, worked in London, got married in Copenhagen and raised two sons in the States. This has led to a colorful collection of passports in the house: Denmark and the US for her husband and children, the US and UK for her. Although she is working round out her collection with an Irish passport via her paternal grandmother.

Along the way, she fell in love with tennis. If she's not on the court with her husband, they are in the stands watching the pros play. Their retirement plans include taking in as many pro-tour matches on the clay courts of Southern Europe as possible.

For now, Denise keeps us all in the swing of things as our Operations Manager. Which she says is a breeze after raising two active boys and sending them off to college.

Alex Sharma

Social Director

Alexander Hartford Sharma has joined SSG as the group's social director and CMO (Chief Mischief Officer). Alex was born into the business and has already shown the extreme curiosity and concentration required to develop sound strategy. He also enjoys banging on keyboards.

A social butterfly from Day 1, Alex has always had the ability to put people at ease and make them smile. And, even though Grandmas are his favorite, he has a smile for everyone.

A foodie at heart, he loves strawberries and refuses to eat salmon unless it is accompanied with curry as nature intended. A frequent flier, Alex has traveled extensively and already dined at a Michelin starred restaurant. About the only thing he loves more than his food, is a ride in the great outdoors in the Baby Bjorn with Vish.
Security Team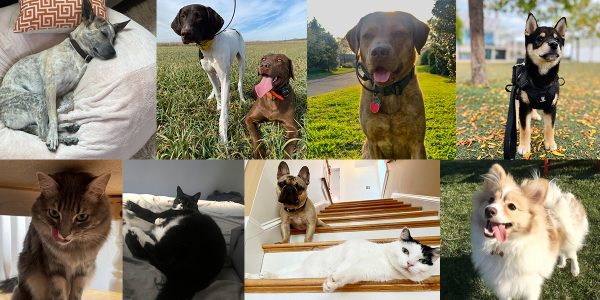 Our Team